Monster Innovation Award given to the year's best at exemplifying success in utilizing the company's innovative recruitment services and technology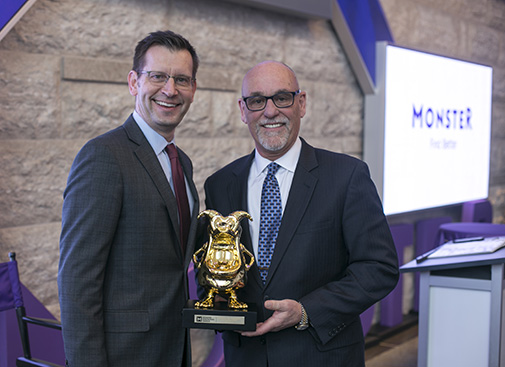 WESTON, Mass., Jan. 9, 2017 - Monster, a global leader in successfully connecting people and job opportunities, announced on Friday that the Washington State Employment Security Department has been awarded the 2016 Monster Innovation Award™.
Selected by Monster's Customer Advisory Board, the Monster Innovation Award recognizes recruiting excellence, celebrating the year's best recruiting success story in using Monster's innovative solutions. 
In announcing the winner of the award, Mark Stoever, Chief Executive Officer of Monster said, "All three award finalists are stellar examples of how to innovate in recruiting using Monster's extensive and industry-leading capabilities. The winner, The Washington State Employment Security Department, and the other top two finalists, CHRISTUS Health, and National Interstate Insurance Company, all clearly echo our own belief that innovation drives recruiting success. We are thrilled to recognize Washington State, who distinguished themselves by leveraging industry best practices and Monster solutions to meet their goals of advancing the economy and reducing unemployment in Washington, while improving people's lives by creating more opportunities for employers and job seekers to connect across the state."
When the Washington Employment Security Department launched its effort to build a new dynamic job-match platform that would help further reduce unemployment across the state, boost Washington's economy and ensure that Washington workers and employers had a multitude of opportunities to help them thrive, they sought a private sector partner that could bring proven recruiting expertise. The Washington Employment Security Department and Monster worked together to develop WorkSourceWA.com, an online job-match platform that transforms the way job seekers and employers connect, and also deployed an integrated case management system used in more than 60 WorkSource Centers across the state.
"WorkSourceWA.com is a game-changer for employers seeking great talent and for job seekers looking for their next job," said Dale Peinecke, Commissioner of Washington Employment Security Department. "Since May of 2016, more than 115,000 job seekers have opened accounts on WorkSourceWA.com, and the site currently features more than 142,000 Washington jobs."
This is the fourth consecutive year for the Monster Innovation Award and the first time a state government earned the honor. The three finalists for this year's award were: Washington State Employment Security Department, CHRISTUS Health, and National Interstate Insurance Company. Video stories of all three organizations are available at the following links:
While at the Monster Headquarters to accept the award, Peinecke also discussed workforce development issues and the incredible interest the Employment Security Department has had in expanding WorkSourceWA.com to serve the needs of other public and private organizations.
About Monster Worldwide
Monster Worldwide, Inc., is a global leader in successfully connecting job opportunities and people. Monster uses the world's most advanced technology to help people Find Better, matching job seekers to opportunities via digital, social and mobile solutions including Monster.com®, our flagship website, and employers to the best talent using a vast array of products and services. As an Internet pioneer, more than 200 million people have registered on the Monster Worldwide network. Today, with operations in more than 40 countries, Monster provides the broadest, most sophisticated job seeking, career management, recruitment and talent management capabilities globally. For more information visit monster.com/about.
About Employment Security Department
The Employment Security Department is a partner in Washington's WorkSource system, a statewide partnership of state, local and nonprofit agencies that deliver a wide array of employment and training services for job seekers and employers.
In 2015, staff at more than 60 WorkSource centers, affiliates and connections sites helped 135,950 workers find jobs and served 3,875 Washington employers.
Studies have shown that people who use WorkSource job-search services tend to find work faster and earn more money than those who don't. WorkSource locations can be found on WorkSourceWA.com